The 6th of January 2015 marked the passing of 50 years since the establishment of this sacred spiritual centre. To mark the auspicious Golden Jubilee, Dharmashri Publications of Mindrolling International prepared a commemorative book collection of presenting an outstanding collection of photographs from Mindrolling's 50 years in India. These books were presented as gifts to all who attended the jubilee celebration.
Here is the online version of the Mindrolling Commemorative Book. Please enjoy it!
The Founders of Mindrolling in Tibet and India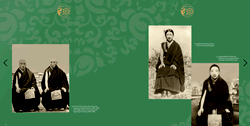 Biographies of the founders of Mindrolling in Tibet—Terdag Lingpa and Lochen Dharmashri—as well as previous trichens and khenchens. Photos and biographies of the founders of Mindrolling in India—Kyabje Mindrolling Trichen, Kyabje Dzongnang Rinpoche and Kyabje Khochhen Rinpoche are also included.
Mindrolling in Tibet, Mindrolling in India, The Early Days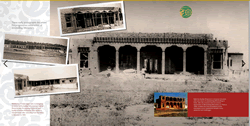 Archival photos of Mindrolling, established by Terdag Lingpa in 1676 in the Drachi Valley of Tibet. Photos of the progressive construction of the monastery, college and stupa in India beginning in 1965 to the present time, as the newly established Mindrolling received blessings from many great masters.
Mindrolling Today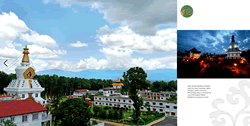 Photos of the buildings and grounds of the Mindrolling campus as it looks today. Photos and information about the Mindrolling International centres in Europe, Asia and North America are also included.
Memories—Part 1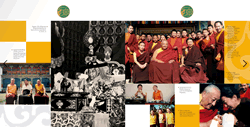 Archival photos of great masters—His Holiness the Dalai Lama, Kyabje Dilgo Khyentse Rinpoche, Kyabje Dudjom Rinpoche, Kyabje Penor Rinpoche, Kyabje Mindrolling Trichen, Kyabje Trulshik Rinpoche and others—eminent rinpoches, the first monks in India, and photos of the 12th and 13th generations of the Mindrolling family.
Memories—Part 2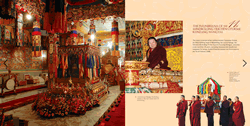 Photos from the parinirvana of Kyabje Mindrolling Trichen in 2008 along with photos of empowerments, transmissions and teachings given at Mindrolling by great masters.
Mindrolling Through 50 Years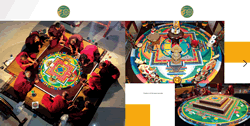 Photos from a wide variety of people and events at Mindrolling Monastery beginning in 1965 and up to the present day, 2015—activities, sadhanas, rituals, great masters, rinpoches, tulkus, monks,staff and Mindrolling family photos.
---
Book Design & Realisation: Xpressions Print & Graphics Pvt Ltd, Dehradun, India
Online Presentation: Dharmashri / Mindrolling International Web & Media
Copyright ©2015-19 Dharmashri Group, Pema Gatsal
Copyright Information