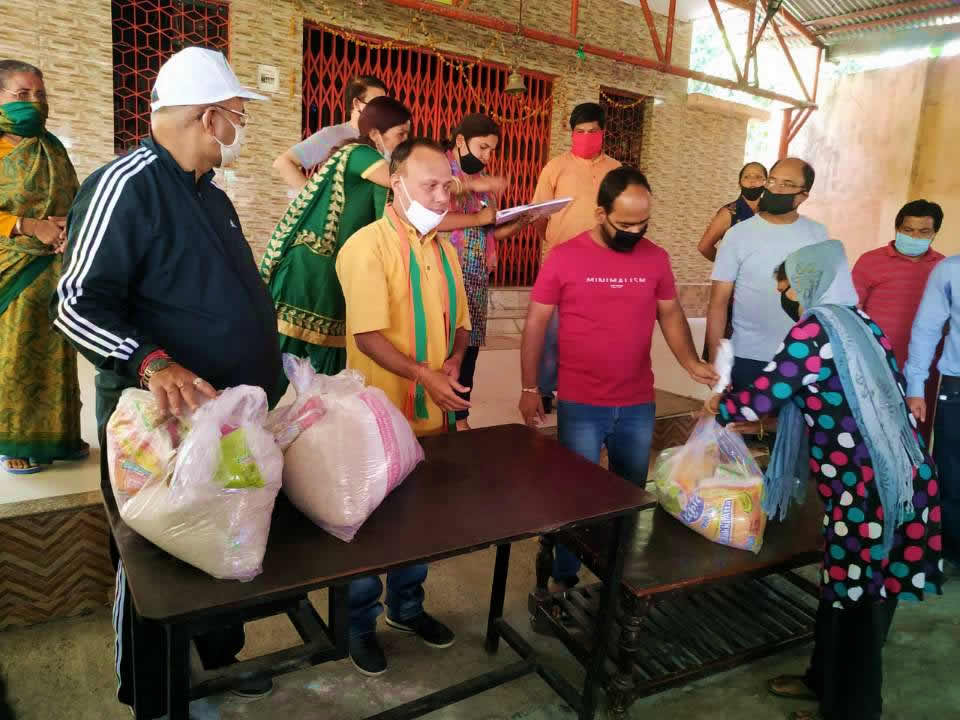 The Mindrolling Sangha has been deeply aware of the hardships faced by so many within India since the COVID-19 pandemic started here in March.
The region of Dehra Dun and Mussoorie relies heavily upon tourism, which has completely shut down. The national lock-down has now lasted more than two and a half months and has caused thousands in this area to lose their jobs or their businesses. This has been a serious cause of suffering for them and their families.
As the lock-down continues and the challenges of lack of food and medical needs increase, it has become imperative that we step up efforts to support the hundreds in need of food and care. Also, within the monasteries and local community, everyone must be provided for, protected and have the best care possible during this pandemic. This is especially true for elderly community members.
Mindrolling has been responding to this need since the lock-down began and is continuing to receive many requests for help.
Under the direction of HE Jetsün Khandro Rinpoche and the Mindrolling administration, much is being done to respond to the support and needs of the many hundreds who are suffering. Efforts in supporting the community have been happening in the following ways:
Distributing face masks, PPE, hand sanitizers, disinfection materials, face shields and medical supplies to monks, nuns, lay community members, health workers and extended community in Dehra Dun.
Supporting many volunteers who have taken great care in looking after the health and well-being of the community. These volunteers regularly check and monitor the health conditions of the local community, including the monks' and nuns' health and well-being.
Ensuring that the elderly members of the Tibetan settlement are cared for and ensuring that they all receive food, medical aid and support.
Providing food kits containing rice, flour, dal, cooking oil, spices, soya nuggets, tea, salt, sugar, detergents and cleaning supplies to those who have lost their livelihood and are in difficult situations.
Spraying and cleaning all local areas with disinfectants on a weekly basis continues to be a massive effort.
In addition, Mindrolling Monastery in Dehra Dun, Sikkim and Lava have each made monetary donations to Chief Ministers Relief Fund of Uttarakhand, West Bengal and Sikkim. All these efforts, combined with the efforts of many others, have made for a well-cared-for and safe community in the Clement Town Tibetan Colony and the larger District.
Mindrolling International would like to thank all the government officials and donors who have joined forces in making all this possible. In the face of such an enormous world crisis, this is only a very small part of what is needed. Mindrolling International is happy to be a part of the unprecedented effort by all the governments, NGOs, companies and private citizens around the world to face this crisis and protect the health and safety of everyone. We hope that the efforts of all are successful and as the whole world works together to face this crisis, may all beings have good health, long life and peace of mind.