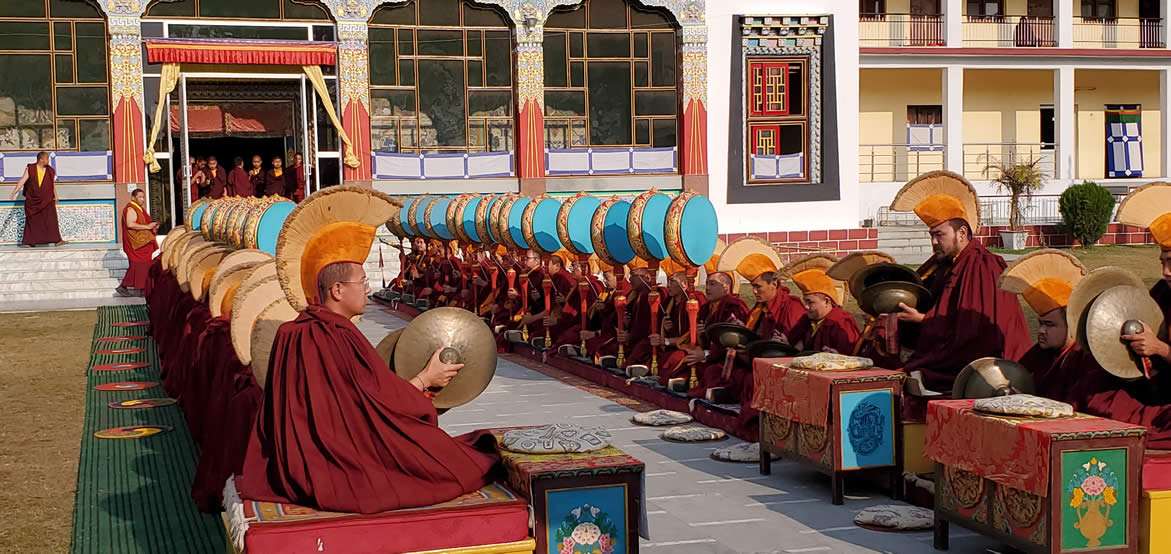 Traditionally, as each lunar year comes to a close, the Mindrolling Monastery performs the seven day Yamantaka Tordok Drubchoe in accordance with the ritual of Shinje Drekjom – (Yamantaka Destroyer of haughty spirits or arrogance).
The Great Terton Chögyal Terdag Lingpa discovered this precious Terma and its profound ritual of dispelling obstacles for the coming year is considered to be crucial and of immense benefit to all sentient beings.
It is traditionally held each lunar year from the 23rd day of the 12th lunar month to the last day of the year. This year too this profoundly blessed drubchoe was held at Mindrolling monastery and was presided over by and Ven. Penam Rinpoche and Minling Umze Ven. Choktrul Jigdral Ngawang Kunga Rinpoche and many Tulkus, Khenpos and monks of Mindrolling.
The spectacular and sacred Cham (ritual dances) held on the 28th and 29th of the last Lunar month was attended by the Mindrolling family, the local Tibetan community of Clement Town as well as by many foreign guests from around the world.
©2020 Mindrolling International